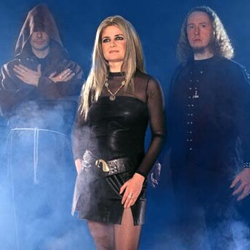 HROSSHARSGRANI BIOGRAPHY


Hrossharsgrani is an Austrian three-piece band playing a kind of cinematic fantasy metal, sometimes more metallic but often sounding quite a lot like epic movie scores. So far they have released four full length albums and some demo's and EP's.



HROSSHARSGRANI GENRES
Viking Metal

HROSSHARSGRANI LYRICAL THEMES
Epic Tales, Tolkien, Heroic, Battles

HROSSHARSGRANI ORIGIN
Austria (Linz), formed in 1998

HROSSHARSGRANI CURRENT RECORD LABEL
CCP Records

HROSSHARSGRANI STATUS
Active

HROSSHARSGRANI CURRENT LINE-UP
Alex Wieser 'Hungin' ? (Hrefnesholt, Ravenclaw (Ltu), Manwe, Elisabetha, ex-Uruk-Hai (Aut))

Fylgja - ?
Munin - ?