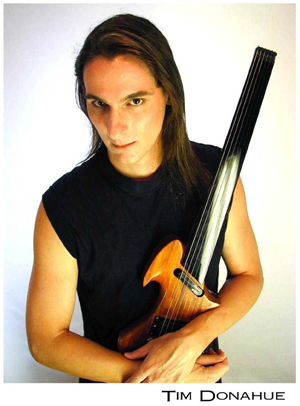 TIM DONAHUE BIOGRAPHY


TIM DONAHUE stands proud among the many guitar protagonists as being one of the
very few to have totally mastered the skill of performing on fretless lead
guitar within the Rock format. As a graduate of Boston's Berklee College of
Music Donahue, struggling to find a sought after sound on conventional
instruments, built his own fretless device. This left field approach would
signal the inception of a career which would emrace all styles of music from
Symphonic Rock, Fusion, Jazz and Hard Rock.
Relocating to Japan Donahue's opening gambit was the 'Fifth Season' album. The
studio band for this record comprised of bassist Kevin Axt, drummer Joel Taylor
and keyboard player Ken Shima.The record certainly turned heads, especially in
the Jazz Rock field.
Building upon this success the guitarist changed tack and returned touting a
whole new instrument innovation- - the fretless electric harp guitar. In order
to maximise the full potential of these harp guitars Donahue painstakingly
developed completely new playing practices which, at times, leaves the listener
thinking there is more than one player involved. This novel method combined with
his own distinctive sound ignited a solo career leading through a series of well
received albums.
Donahue signed up with Nippon Crown Records for the 1994 record 'Still
Dreaming'. Assisting in the studio would be accomplished Japanese musicians
Tatsuhiko Hizawa on fretless bass guitar, Masay Nakano on keyboards and drummer
Jun Saito.
This outing caught the attention of film makers Shochiku Productions who would
in turn persuade Donahue to score the 'Marks No Yama' movie soundtrack, a major
Japanese psychological thriller. With Donahue adding mandolin to his repertoire
Hizawa, Nakano and Saito would turn in performances yet again together with
flutes, bagpipes and full orchestration.
In 1997 Donahue ventured into the realms of Progressive Rock cutting the Eddie
Kramer produced 'Voices In The Wind' album. Vocals were on hand from an
undisputed giant of the Rock World- PAUL RODGERS of FREE and BAD COMPANY. Bass,
fretless naturally, came courtesy of Jaz Lochrie whilst Toss Panos supplied
drums
During 2000 Donahue would unite with vocalist Kelly Hansen of HURRICANE and
UNRULY CHILD fame forging a band project 'Into The Light' for an eponymous
album. 2003 saw the formation of MADMEN & SINNERS, a collaboration between
Donahue, DREAM THEATER singer James LaBrie and the ANNIHILATOR, STEVE VAI and
EXTREME credited drummer Mike Mangini.



TIM DONAHUE GENRES
Progressive Rock/Metal

TIM DONAHUE LYRICAL THEMES
politics, religion, love, loss

TIM DONAHUE ORIGIN
United Kingdom, formed in 1986

TIM DONAHUE CURRENT RECORD LABEL
Frontiers / EMI

TIM DONAHUE STATUS
Active

TIM DONAHUE CURRENT LINE-UP
Tim Donahue - All Instruments

TIM DONAHUE PREVIOUS LINE-UP
Session musicans listed under each album.