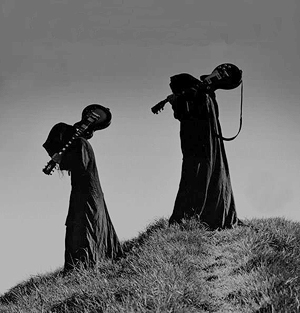 SUNN O))) BIOGRAPHY


Sunn O))) (pronounced simply "Sun") is an American doom/drone metal/dark ambient band consisting of Stephen O'Malley (Khanate, Burning Witch, SARIN, Teeth of Lions Rule the Divine, Lotus Eaters, Ginnungagap, Thorr's Hammer, Fungal Hex, KTL, Æthenor, Gravetemple) and Greg Anderson (Goatsnake, Thorr's Hammer, Burning Witch, Teeth of Lions Rule the Divine, Brotherhood, Engine Kid, FALSE LIBERTY, burial chamber trio). The band was formed as a tribute to Earth, another very heavy band and pioneers of drone metal.

The band is named after the Sunn amplifier brand, whose logo includes a circle next to the "SUNN" banner with waves heading off to the right - reading those out as letters makes "Sunn O)))". The band uses the same logo for their albums as well.

Their sound is extremely slow and heavy, using droning guitars accompanied by feedback and other sound effects to create their soundscapes. There is very little drumming and a lack of any discernible beat, though their collaboration album with Boris features drumming from Boris drummer Atsuo.

The band are currently signed to influential doom label Southern Lord, although they released ØØ Void on Rise Above Records (in Europe/ UK) and Hydra Head Noise Industries (in the US). The Grimmrobe Demos was released on Hydra Head Noise Industries originally with Southern Lord doing the re-release containing a bonus track. The 'Live White' 2xCDr set was released via Archive Records while their Live in UK album was released by Bastet, a music label run by Authur Magazine based in MD and CA. Vinyl releases have been released by: Bisect Sleep, Dirtier Productions, Thin the Heard, Outlaw Recordings, Daymare Recordings and Southern Lord.

As of late, Sunn O))) has been experimenting with a variety of drone styles and sounds, mostly abandoning the all-guitar and bass sound of 'The Grimmrobe Demos' and 'ØØ Void'. The 'White1' and 'White2' albums noticeably expanded on the general Sunn O))) sound by inviting several guests, resulting in everything from quiet meditative ambient sounds ("A Shaving Of The Horn That Speared You" from 'White1') to a bizarre bass experiment track ("bassAliens" from 'White2'). Black One continues this trend, utilizing far more keyboard and other instrumentation than earlier Sunn O))) material, yet still marking a significant return to their traditional sound.

Daymare (Japan) releases are out now for 'White1', 'White2' and 'Black One' and all include a second CD as a bonus. The bonus discs are as follows:

White1 bonus disc includes the Bastet Halloween live performance from the UK
White2 bonus disc includes the 'LiveWhite' 2xCDr from Archive Recordings
Black One bonus disc includes the 'La Mort NoirDans Esch/Alzette' live album... all bonus discs are of out-of-print material and are released by Daymare Recordings in Japan.

During Sunn's Australian tour in May 2007, the band released a 2xCD called 'Oracle' which contains three tracks. The CD, limited to 2000 copies, contains a track which was used for a Banks Violette art exhibition in the UK whereby Banks created Sunn's entire back-line, instruments and effects pedals out of resin and salt. Another track was an extended version of Sunn's contribution to the Buddha Box compilation CD. The bonus disc contained a mash up (created by Oren Ambarchi) of two live performances. The 2xCD was exclusive for live performances only and a single disc CD was never officially sold. Instead, it was given away for free with the purchase of the 'Oracle' vinyl only available through Southern Lord as there was a printing error for the single disc version (the error incorrectly lists the bonus CD track).

In mid-September, Daymare announced new re-releases for the following albums (shown with bonus material) to be released in October 2007:

The Grimmrobe Demos (bonus disc: Live at Gabah / Anti Club '99)
00 Void (bonus disc: Remix by Nurse With Wound)
Flight Of The Behemoth (bonus disc: SUNN O))) with Merzbow at Earthdom, Tokyo 2007)



SUNN O))) GENRES
Drone Doom Metal

SUNN O))) ORIGIN
United States of America (Los Angeles, CA/New York, NY), formed in 1999

SUNN O))) CURRENT RECORD LABEL
Southern Lord

SUNN O))) STATUS
Active

SUNN O))) CURRENT LINE-UP
Greg Anderson - Guitars, bass (Goatsnake, Teeth of Lions Rule the Divine, Burial Chamber Trio, Thorr's Hammer, ex-Burning Witch, Engine Kid , guest on Lunatics on Parole)
Stephen O'Malley - Guitars, Bass (Burning Witch, Aethenor, Khanate, Teeth of Lions Rule the Divine, Thorr's Hammer, Ginnungagap, Lotus Eaters, Fungal Hex, KTL (US), Grave Temple, House Of Low Culture)

Justin K. Broadrick - guitar for 2006 European tour and 2007 tour (ex-Fall of Because, Napalm Death, Jesu, Godflesh, Head of David, Final (US), Techno Animal, ex-God, ex-Ice, ex-The Sidewinder, ex-Solaris BC, ex-Sweet Tooth, Tech Level 2, ex-Youpho)

SUNN O))) PREVIOUS LINE-UP
G. Stuart Dahlquist - Bass (Burning Witch, Goatsnake, Asva)

Session musicians:
Attila Csihar - Live vocals (Mayhem (Nor), Tormentor (Hun) , Keep of Kalessin, ex-Aborym (Ita), Korog, Plasma Pool)
Malefic - Live vocals (Xasthur (US), Mord (US), Twilight (US), Sick (US))
Wrest - Live vocals (Leviathan (US), Lurker of Chalice, Twilight (US))
Runhild Gammels?er (Thorr's Hammer) participated in the making of White1.