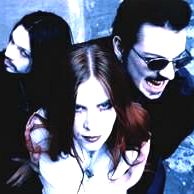 PECCATUM BIOGRAPHY


Peccatum was formed by singer Ihriel (Heidi Solberg Tveitan), her husband Ihsahn (of the well-known black metal band Emperor), and her brother Lord PZ. The group has released five albums since their inception in 1999. Lost in Reverie, released in 2004 after Lord PZ's departure, demonstrated a change in a more classical, avant-garde and musically opaque direction.

Lost in Reverie and the 2005 EP The Moribund People were both produced under the label Mnemosyne Productions, owned and operated by Ihriel and Ihsahn themselves.

On March 4th, 2006 Peccatum split, leaving room for Ihriel to continue with Star of Ash and Ihsahn to work on his solo work.



PECCATUM GENRES
Avant-Garde Rock (new), Avant-Garde Extreme Metal (old)

PECCATUM LYRICAL THEMES
Spiritual, Dreams, Love, Death

PECCATUM ORIGIN
Norway (Telemark), formed in 1998

PECCATUM CURRENT RECORD LABEL
Mnemosyne Productions

PECCATUM STATUS
Split-up

PECCATUM CURRENT LINE-UP
Ihsahn (Vegard Sverre Tveitan) - Guitars, Bass, Keyboards, Vocals (Zyklon-B (Nor), Thou Shalt Suffer, Wongraven, Ildjarn, Embryonic, Emperor, Hardingrock)
Ihriel (Heidi S. Tveitan) - Vocals, Keyboards, Electronics (Star of Ash, Hardingrock (as Starofash))

PECCATUM PREVIOUS LINE-UP
Lord PZ - Vocals (Source of Tide)
Knut Aalefjær - Drums (session work on "Lost In Reverie")
Per Eriksen - Percussion on "Amor Fati", Percussion/Drums on "Oh, My Regrets" (ex-Limbonic Art)
Helene Vaage - Cello on "Oh, My Regrets"
Trond Villa - Viola, Violins on "Oh, My Regrets"