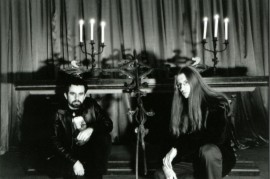 PANTHEIST BIOGRAPHY


Mournful, funereal doom metal with a heavy dose of melancholy. The extensive use of keyboards,organ sounds and chanted vocals (although a lot of the vocals are grunted) creates a solemn, mystical atmosphere on many tracks. The music also incorporates many metal riffs as well as faster and more agressive interludes, which distinguish the band from the non-aggressive approach of most funeral doom outfits.



PANTHEIST GENRES
Funeral Doom Metal

PANTHEIST ORIGIN
Belgium (Antwerpen, now London, UK), formed in 2000

PANTHEIST CURRENT RECORD LABEL
Firedoom Music

PANTHEIST STATUS
Active

PANTHEIST CURRENT LINE-UP
Kostas Panagiotou - Vocals, Keyboards (Bellator, Wijlen Wij)
Andy Semmens - Vocals (Esoteric (UK), ex-Helgrind (UK), ex-Moss (UK))
Ilia Rodriguez - Guitars, Vocals (Indesinence)
Mark Bodossian - Bass, Vocals (Esoteric (UK), ex-Chalice (Aus), ex-Mournful Congregation)
Sterghios Moschos - Drums (De Profundis (UK))
Pete Benjamin - Guitars (Concept (UK), Akercocke, ex-Corpsing)

PANTHEIST PREVIOUS LINE-UP
Nicolas - Guitar/Spoken Voice
Frederic Caure - Bass (Thee Plague Of Gentlemen, ex-Bellator, ex-Secundo Flumine, ex-Rhymes Of Destruction, ex-Dune (Bel), ex-Death Anos, ex-Firma, Serpentcult)
Oscar Strik - Drums
Wim Boey - Bass
Kris - Drums (In Somnis, Wijlen Wij)

Session musicians:
Lefteris - baglama, acoustic guitar, oud
Hans - double-bass
Stijn - guest vocals on 'Envy Us' (Wijlen Wij, Beyond Black Void, Until Death Overtakes Me, Fall of the Grey-Winged One, The Ethereal, In the Mist (Bel), Organium, Forbidden Fields, Dreams of Dying Stars, I Dream No More, Solicide, In Somnis, The Sad Sun, Tear Your Soul Apart)
Lawrence Van Haecke - bass on "1000 Years"