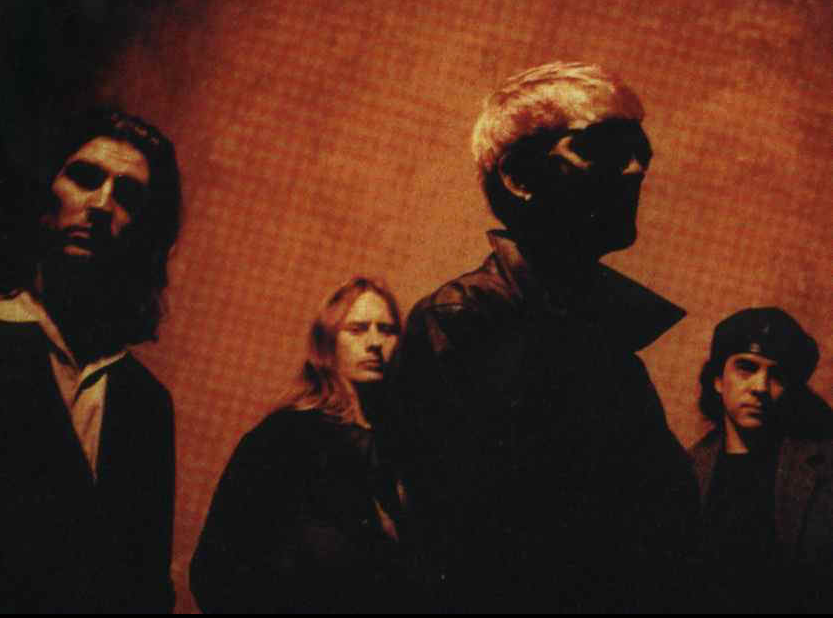 ALICE IN CHAINS BIOGRAPHY


Alice in Chains was one of the most influential American grunge bands of the early '90s. Drawing equally from the heavy riffing of metal and the gloomy strains of post-punk, the band developed a bleak, nihilistic sound that balanced grinding hard rock with subtly textured acoustic numbers. They were hard enough for metal fans, yet their dark subject matter and punky attack placed them among the front ranks of the Seattle-based grunge bands. While this dichotomy helped the group soar to multi-platinum status with their second album, 1992's Dirt, it also divided them. Guitarist/vocalist Jerry Cantrell always leaned toward the mainstream, while vocalist Layne Staley was fascinated with the seamy underground. Such tension drove the band toward stardom in their early years, but following Dirt, Alice in Chains suffered from near-crippling internal tensions that kept the band off the road for the remainder of the '90s.

Formed in 1987 by Staley, guitarist Jerry Cantrell, bassist Mike Starr, and drummer Sean Kinney, the band performed under the names "Diamond Lie" and "Fuck" before adapting the name of Staley's former band "Alice N' Chainz" a speed metal outfit that performed in drag. Combining the unique voice and intense delivery of Staley with the evocative songwriting and vocal harmonies of Cantrell, Alice in Chains created an immediately identifiable sound that also proved to be quite versatile as their repertoire grew to include both driving, angry rock songs and mellow acoustic compositions.

The band found commercial and artistic success in the early 90's, primarily through the release of Dirt which also highlighted Staley's increasingly apparent addiction to heroin. The band appeared on the successful lollapalooza tour in 1993 and released the Jar of Flies EP in 1994, but often found its attempts to follow up success in the studio or on the road to be hampered by Staley's erratic, drug-fueled behavior. Former Ozzy Osbourne bassist Mike Inez came to replace Starr and the band would eventually record a third studio LP as well as a performance of MTV Unplugged. Ultimately, however, Alice in Chains would fail to maintain a consistent career in the post-grunge music world and limped into hiatus when Cantrell turned his attention to solo projects (which often included contributions from Kinney and Inez). Staley finally succumbed to his affliction when he overdosed in April 2002.

Alice in Chains appeared in and contributed music to the Cameron Crowe movie "Singles" and also recorded two songs for the soundtrack to the Arnold Schwartzenegger film "Last Action Hero". Staley was also a member of grunge side project/supergroup Mad Season with Mike McCready of Pearl Jam and Barrett Martin and John Baker Saunders of Screaming Trees.

Alice in Chains have released the following albums/EPs:
*Facelift (1990)
*Sap [EP] (1992)
*Dirt (1992)
*Jar of Flies [EP] (1994)
*Alice in Chains (1995)
*Unplugged (1996)
*Nothing Safe: The Best Of The Box (1999)
*Music Bank (1999)
*Live (2000)
*Greatest Hits (2001)
*The Essential (2006)

The surviving members of Alice in Chains reformed and played shows in late 2005 and early 2006 with a variety of guest vocalists, including Billy Corgan, Pat Lachman, Wes Scantlin, Maynard James Keenan, Ann Wilson and Phil Anselmo. For their European and U.S. tours of mid-late 2006, William Duvall (Comes With the Fall) performed lead vocals.

In spring 2007, the band announced they are writing new material with DuVall as an official, full-time member.




ALICE IN CHAINS GENRES
Heavy Metal / Grunge

ALICE IN CHAINS LYRICAL THEMES
Depression, Drugs, Suicide, Death

ALICE IN CHAINS ORIGIN
United States of America (Seattle, Washington), formed in 1985

ALICE IN CHAINS CURRENT RECORD LABEL
Sony Music Entertainment

ALICE IN CHAINS STATUS
Active

ALICE IN CHAINS CURRENT LINE-UP
Jerry Cantrell - Guitars, Vocals
Mike Inez - Bass (ex-Ozzy Osbourne, ex-Black Label Society, ex-Jerry Cantrell, Skin On Skin)
Sean Kinney - Drums (ex-Jerry Cantrell)
William DuVall - Vocals, Guitars (Comes With The Fall)

ALICE IN CHAINS PREVIOUS LINE-UP
Layne Staley (R.I.P. April 5, 2002 from an apparent drug overdose) - Vocals, Guitars on occasion (Mad Season, Class of '99)
Mike Starr - Bass on Facelift and Dirt (Sun Red Sun)
Nick Pollock - Vocals, Guitars (1985-1986) (My Sister's Machine)
Wes Armstrong - Vocals (1985-1986)
Scotty Olson - Guitar (session member on the unplugged show)

James Hetfield of Metallica fame has also done some guest vocals on occasion.

At some point in 1986 or so, Jim Sheppard (Sanctuary (US), Nevermore) was in the band too playing bass.