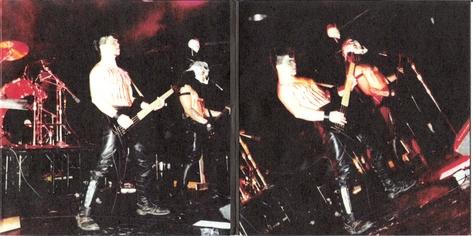 VON BIOGRAPHY


VON is an influential black metal band from the United States. They are known for their extremely simplistic and evil style. A typical Von song would have one central riff, rarely composed of more than 4 notes, and fast, almost blast beat style drumming, the snare alternating with the bass drum respectively. This repetitive style gave their songs the feeling of an evil chant or ritual. They recorded 2 demos in the 80's and split-up. In 2003 both demos and 12 live songs were released by Nuclear War Now Productions, with the title of Satanic Blood Angel.




VON GENRES
Black Metal

VON LYRICAL THEMES
Blasphemy, Death, Satanism, Violence

VON ORIGIN
United States of America (San Francisco, CA), formed in 1989

VON CURRENT RECORD LABEL
Nuclear War Now Productions

VON STATUS
Split-up

VON CURRENT LINE-UP
Goat aka Von - Guitars, Vocals
Kill (Joe Allen) - Bass (Abscess (US), Eatmyfuk)
Snake - Drums

VON PREVIOUS LINE-UP
There was a unnamed bass player in 1989, before Kill joined the band to record the ``Satanic Blood`` Demo in 1990.