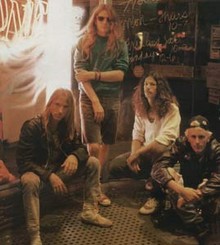 BLIND ILLUSION BIOGRAPHY


Blind Illusion was a legendary SF Bay Area metal band for years, going through many lineups and style changes prior to their first release (progressive rock among them). The original lineup (formed around 1979) consisted of vocalist David Godfrey (later of Heathen), guitarist Mark Biedermann, bassist Alvin Petty, and drummer Bret Hern. By the time of The Sane Asylum, only Biedermann remained, and in fact Les Claypool and Larry Lalonde departed soon afterward to form Primus. The Sane Asylum was a thrash album highlighted by Les Claypool's inventive basswork (a style he would fully develop later in Primus). Biedermann has been involved with many other bands over the years, contributing on albums by Blue Öyster Cult and Heathen (and others). Currently he is living in northern California and amongst his projects are re-releasing The Sane Asylum, releasing the unreleased second album (The Medicine Show, apparently featuring Claypool and LaLonde), recording a third Blind Illusion album, and assorted other metal music projects.



BLIND ILLUSION GENRES
Heavy Metal (1979-1985), Progressive Thrash Metal (1986-1989)

BLIND ILLUSION LYRICAL THEMES
Insanity, Death, Corruption, etc.

BLIND ILLUSION ORIGIN
United States of America (San Francisco, CA.), formed in 1979

BLIND ILLUSION CURRENT RECORD LABEL
Independent

BLIND ILLUSION STATUS
Active

BLIND ILLUSION CURRENT LINE-UP
Marc Biedermann (ex-Heathen) - Vocals, Guitar (1979-1988)
Les Claypool (Primus, ex-Jerry Cantrell, Sausage, Öysterhead, Les Claypool's Frog Brigade) - Bass (1979-?, ?-1988)
Larry Lalonde (ex-Possessed, Blizzard, Primus, Flying Cunts of Chaos) - Guitar (1987-1988)
Mike Miner (Blizzard)- Drums (?-1988)

BLIND ILLUSION PREVIOUS LINE-UP
Vocals:
Keith Stewart (1979)
David Godfrey (Heathen, Laughing Dead, Inner Threshold) (1980-?)
Tim Agnello (ex-Exodus, Outrage)

Guitars:
Pat Woods*
Evan McKaskey (ex-Exodus) (1983) (R.I.P.)

Bass:
Geno Side
Alvin Petty (1979)
Chris Olsen (1980-?)
Brian Kehoe

Drums:
Bret Hern (1979-?)

*Vocals

Many others - there were at least 15 members unaccounted for here.